Content Marketing
Content is king. Customers these days don't just want a product, they want more. They want to know what's behind you and your brand. They want to understand your values, get to know the people behind the scenes and what they stand for. Strategic content provides all the answers. And that's not all. Good content is perfectly crafted for your target group, easy to find, and ideally sparks interaction with your customers. Good content grabs your customers' attention where they need it most, perfectly covering their pain points. It communicates your benefits compared to the competition and provides your customers with compelling reasons to work with you.
"Since she joined us, Inke has written all texts, from the website, press releases and user reports to advertorials for the trade press and other customer communications. She works efficiently by first roughly defining the topics and content with us, then further elaborating them in cooperation with her colleagues and later submitting them to us for final approval. It's always a "first shot" - both we and our colleagues are always thrilled with the texts. In addition - and this is probably the main thing - Inke hits the nerve of the customer and picks him up exactly where his needs are."
A treasure trove of content expertise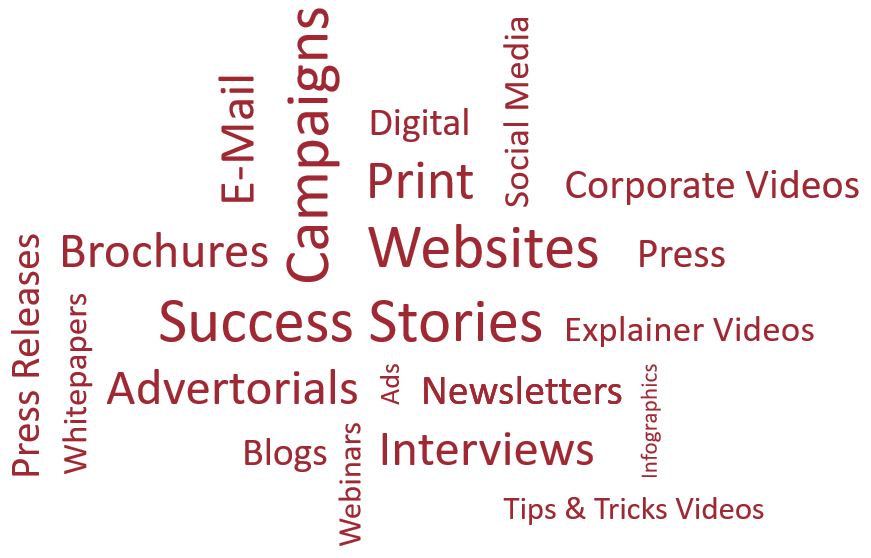 I can support you in your content marketing work and help you carve out your "DNA", your corporate identity, a content strategy or a communication concept. If you're already further down the line, I'm happy to write or create targeted content on your behalf. When we work together, you can count on me to...
never lose sight of your corporate and marketing goals,
ensure your communications come from a single source, remaining consistent across all channels and media forms,
ensure you grab your target group's attention where they need it most and communicate clear benefits,
know from day one what content is required in what format and for which media, applying and controlling your content effectively – with or without a content management system,
that I keep up with the times, use gender-appropriate language and use AI tools for copywriting as support where it makes sense and saves time.